Hi everyone.
Candie Evans is a favorite of many so I dug into the archives
to find a film that wasn't on this forum already. I came up
with this one which it turns out I haven't actually watched yet.
Thanks to whoever ripped and uploaded it to ed2k.
(Click to enlarge)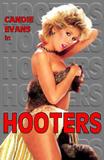 Hooters' is a sexy, fun-filled send up of game shows. The idea is that

two couples come on the show and compete for cash and fabulous prizes.

So what's the thrill? Well, they compete by answering questions about

sex and by demonstrating their sexual skills for the appreciative crowd.

The female contestants on this show seem to have been selected on the

basis of their top-heavy figures, as each of them sports some truly

enormous up-top assets. The premise is cute enough, and the flick

eatures some funny moments. But what the film specializes in is white-hot

action. The couples are led through their paces by a host of hot-to-trot

temptresses, each one bustier than the last. And once the action gets

going, there's no way to stop it until it reaches its inevitable and explosive

climax. Buxom beauty Candie Evans is at the peak of her considerable

on-screen prowess here, while ebony stunner Ebony Ayes provides more

than her fair share of jolting jiggle. In the end, the two couples decide

that it's better to play together than to compete, which results in a feverish

fourway fling. Lovers of large breasts and their passionately petite owners

will want to take special notice of this film, as will those who like their porn

with a little wit and satire.
Size:
996.9 MB
Duration:
1:21:10
Video:
DivX 5, 432x320
Audio:
MP3, 128 kbits/s, 48 khz, mono
Here's a preview of some big hooter action (10.1MB):
http://rapidshare.com/files/85876981/Hoot86-preview.zip
Caps:
(Click to enlarge)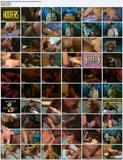 Cast:
Beverly Glen
Regine Bardot (as Brittany Bardot) [Facial IR]
Candie Evans
Ebony Ayes [Facial]
Andre Bolla
Chris Reed
Michael Lee
Rick Savage
Scene Breakdown:
Scene 1. Beverly Glen, some blond guy
Scene 2. Andre Bolla, Ebony Ayes, Michael Lee, Regine Bardot
Scene 3. Candie Evans, Chris Reed
Scene 4. Andre Bolla, Regine Bardot
Scene 5. Ebony Ayes, Michael Lee
Scene 6. Regine Bardot, Rick Savage
Sorry the file is so large but that's the size it came. I hope
you think it's worth downloading because it took a very long
time to upload it. But if not, it's here for 3 months anyway.
Enjoy!
http://rapidshare.com/files/85888412/Hoot86.part01.rar
(75.0MB)
http://rapidshare.com/files/85901059/Hoot86.part02.rar
http://rapidshare.com/files/85916449/Hoot86.part03.rar
http://rapidshare.com/files/85936077/Hoot86.part04.rar
http://rapidshare.com/files/85957870/Hoot86.part05.rar
http://rapidshare.com/files/85979802/Hoot86.part06.rar
http://rapidshare.com/files/86004127/Hoot86.part07.rar
http://rapidshare.com/files/86029461/Hoot86.part08.rar
http://rapidshare.com/files/86056094/Hoot86.part09.rar
http://rapidshare.com/files/86079134/Hoot86.part10.rar
http://rapidshare.com/files/86098202/Hoot86.part11.rar
http://rapidshare.com/files/86116072/Hoot86.part12.rar
http://rapidshare.com/files/86129494/Hoot86.part13.rar
http://rapidshare.com/files/86131819/Hoot86.part14.rar
(15.0MB)
Password:
xlouisp
x264 upgrade in next post courtesy of kogi